Hundreds of "Occupy Oakland" protesters remained peaceful Wednesday night at Frank Ogawa Plaza.
By Thursday morning, two tents were placed on the plaza grass with overnight campers inside. Police allowed them to stay.
Hundreds gathered on the plaza Wednesday night and forceably took down a fence that had been placed around the grassy area to keep people out. Police did not stop that effort.
By morning people had turned the fencing into a tower and called it art.
Also during Wednesday's marches, protesters called for a citywide strike next Wednesday, where workers and students would leave their positions to join a march in downtown Oakland.
A large number of people left Wednesday night's Oakland demonstration to join the "Occupy SF" rally, which was feared to be
facing eviction
from police in San Francisco. In the end, even though dozens of officers worked the overnight shift, the raid did not happen.
Occupy SF identified the man as 24-year-old Scott Olsen, an Iraq war veteran. Olsen has a fractured skull and is in critical condition at Highland Hospital in Oakland, according to a hospital spokesperson.
Wednesday afternoon, members of Occupy Oakland said Olsen was surrounded by his friends and fellow Iraq war veterans in the hospital.
People in the video also ask Olsen "What's your name?" multiple times, but Olsen did not respond.
In the end, other protesters picked him up and took him out of the area.
The hospital told NBC Bay Area Thursday morning that he remained in critical condition.
Abele Carpenter, 29, a friend of Olsen's who met him through his anti-war activism, said she visited Olsen in the hospital early Wednesday morning and has been in touch with his family who are supposed to fly to Oakland Thursday.
Carpenter said that a few weeks ago, she and Olsen did outreach together for active duty sailors during Fleet Week, and that Olsen was involved in trying to stop the redeployment of traumatized service members.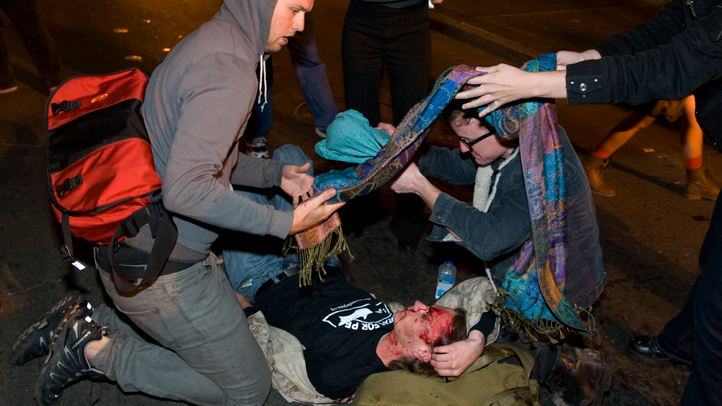 "He has a real breadth to his politics and social justice commitment," Carpenter said. She said Olsen had been camping at Occupy SF consistently for at least a week.
Another friend at the vigil said a fund is being set up to assist with Olsen's medical expenses and his family's travel expenses from Wisconsin at
www.ivaw.org
.
Olsen was reportedly a part of San Francisco's Occupy movement, but crossed the Bay to support the effort in Oakland Tuesday night.
Olsen reportedly completed two tours of a duty in Iraq and he is an active member of Iraq Veterans Against the War.
Here's the video that shows Olsen being carried off after he was hit by some kind of projectile.

taken from http://www.nbcbayarea.com/news/local/Occupy-Oakland-Protester-Seriously-Hurt-Report-132644468.html